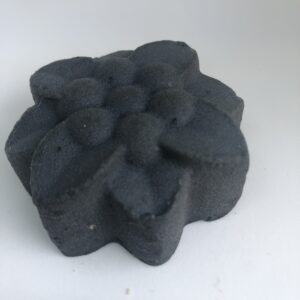 Benefits of Activated Charcoal Soap:
Treats oily skin
May be used to treat Acne
Reduces pore size
Makes skin tighter and Firmer
Prevents premature aging
Clears skin blemishes
Suits every skin type
 Reduces Pore Size
Throughout the day, dirt, toxins are settling over your pores making them more noticeable and enlarged in appearance. When your pores aren't clear, neither is your complexion. Charcoal soap is the best solution for this as Activated carbon binds to and helps pull the dirt and grime out of your pores, making them less visible and reduces their size. This leaves your face feeling fresh.
Very Gently Exfoliates
The texture of charcoal makes for a gentle natural exfoliator. Soap with activated carbon is slightly gritty, which might provide just the gentle exfoliating you need. It helps to remove dead skin cells along with the extraction of dirt and grime from the skin, while its antimicrobial properties help prevent skin infections. Essential oils further boost bactericidal properties, therefore, our activated charcoal soap is coupled with tea tree essential oil, which has antibacterial, antiseptic properties and the ability to treat skin disorders including acne, blemishes.